**Contract must be signed by March 1st, 2024 to obtain the 15% savings.
**Contract must be signed by March 1st, 2024 to obtain the 15% savings.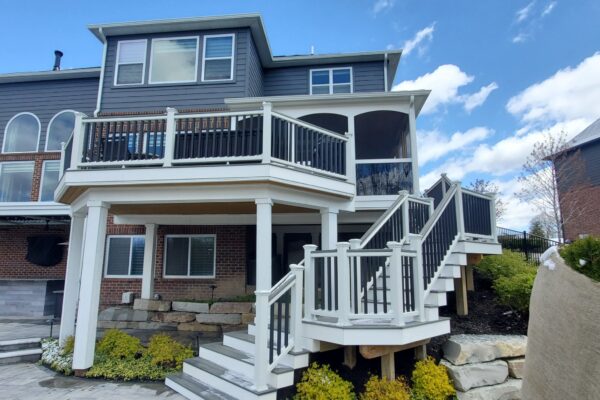 Exceptional Decking and Patio Solutions in Metro Detroit and Northern Michigan
We serve the entire Detroit metropolitan area, including Ann Arbor, Livonia, Novi, Northville, Milford, South Lyon, and Walled Lake, and NOW serving Northern Michigan from West Branch to Grayling, to Traverse City! Whether it's your home, or your vacation home or cottage Up North, our professionals will guide you from design to installation, ensuring that your deck meets your unique style and requirements.
Meet Our Team
Servicing Metro Detroit and the Surrounding Areas
As the leading deck builder in Oakland County, Livingston County, Wayne County, and Northern Michigan, Coy Construction is available for customers from Ann Arbor to Traverse City. Whether you are looking to create an inviting gathering space for your backyard or a cozy retreat, our experienced team will help you bring your vision to life.
Other Outdoor Living Solutions
In addition to being a premier deck builder in Metro Detroit and Northern Michigan, we also specialize in other outdoor living solutions. We can create a cohesive and functional outdoor space that perfectly complements your deck. This can include charming porches, pergolas, and other features. Our experienced craftsmen pay attention to every detail to ensure that your outdoor area is of the highest quality.
A Wide Range of Decking Materials
We know that not all decks are created equal. As such, we offer a wide range of materials for our customers to choose from. From natural Cedar to durable Trex, we have options that fit every budget and aesthetic. Our team will help you select the perfect materials for your deck that fulfill all of your requirements.
Ready for an outdoor upgrade?
Whether it's building a new deck, resurfacing your current deck, or adding new structures like a porch, pergola, or gazebo, our team can help. Call or email us today to receive a free estimate and free design.
Contact Us!
Ready to witness the power of transformation? Explore our before and after showcase and experience the awe-inspiring results that await when you choose Coy Construction as your partner in creating extraordinary outdoor living spaces.
Discover a collection of stunning images that showcase the craftsmanship, innovation, and artistry that define our projects. From elegant decks to inviting porches and captivating pergolas, let our gallery of projects inspire your imagination and envision the possibilities for the outdoor living space of your dreams.
kathy morgan cunningham
2023-08-29
Coy Construction built a new deck for us and it is absolutely fabulous! We love it and would recommend Coy to anyone looking to build a deck. They are super professional, responsive, honest and hardworking. Our main contact Chris answered every question we had (and there were a lot) and went above and beyond to ensure we were happy and got what we wanted. They had to work with our neighborhood village (which wasn't easy) and they handled all of the permitting, variances, etc. and kept us informed all along the way. And the crew that did the build itself was top notch and again, went above and beyond to meet our expectations. I can't recommend them enough!
Tracee Guibord
2023-06-23
I am delighted with my deck. My project was a bit out of the ordinary and Coy came to my rescue. The project was managed well by Adam and the owner Mike. My lead deck builder Josh is a true professional. The job site was always left tidy. The pride in workmanship shines through with Coy. I couldn't be happier with the work. This is a long-standing family run local business worthy of your job.
Reading a few reviews I have to say the problem with Coy is complete disconect between design and build process. We started the process with them in August of 2022 and may 2023 we don't have it completed 100% they use sub contract crews that come out and do parts of the job some times space between tasks is in weeks/months. Design was massed up and we had to somewhat settled with what was build and material ordered for. All steps of the project were hassle. Still don't have my final inspection. For the price they charge use someone accountable. Mike the owner have not been involved since the sale was done and Brian was only on time to collect payment.
Great job on time friendly did great work definitely recommend them ..thank u for great job…very professional.did everything I asked of them ..
Patricia Murphy
2023-04-08
Paid Coy Constuction $50,000 for new Trex Deck with wired post lighting last year... the wiring was installed improperly… not stapled to boards..just ran on ground. Within 2 weeks, mice/chipmunks ate through wires and lights stopped working. Coys response: they blamed me…for chipmunks chewing through wires left on ground!!? Would not refund. Owners son, Brian, was rude and yelled at me. I now have to pay a reputable trex contractor to fix what Coy Construction Could not do. Don't hire them…
Shawn Mobley-Sulich
2023-04-05
We used Coy Construction to remodel 14 decks at a high-end condominium complex in Birmingham, Mich. We were beyond impressed from our first meeting through the completion of this job. Coy Construction exceeded our expectations in every aspect of this project. Outstanding attention to detail, excellent communication, organization and cleanliness at the job site. Highly recommend this fine group!!! Dr's Shawn and Andrew Sulich, Birmingham, MI
Chris, Bryan and the entire Coy Construction team were exteremely professional, great to work with, and performed work with an exceptional end trex deck product that myself and my family could not be happier with. Chris and Bryan were thorough with all steps in the process from permitting, to removal and installation. Bryan also was committed to following up with us to ensure the project was meeting our expectations as well as explaining every step of the process. We are so excited to have a Trex deck that our family will enjoy for years to come. I will definitely use Coy Construction again as well as recommend them to anyone I encounter. Thanks again Bryan and Chris!
Patrick Tarbet
2023-03-20
After the sales guy Chris came to my house gave me some fly-by-night off-the-wall quote never sent any kind of real / Even slight detailed estimate. I attempted to reach them 4 times-left voicemails no response..
I had an existing deck replaced and enlarged and couldn't be happier. They were very helpful and professional. From start to finish they followed through exactly like they said they would. I can't wait for spring so that I can enjoy my new Trex deck!
Charlie & Nick did an impeccable job replacing the old wooden deck with a beautiful Trex deck. Once the project began, it was truly impressive. They were professional, and the work was outstanding... job well done!